A complete downloadable list of things you should pack and bring when you are coming to Australia as an international student or as a visitor.
Are you unsure what to pack and what not to before you come to Australia?
Worry not!
Yes, relax. 🙂 I have compiled the entire list of things to bring and items you can skip if you are limited to space.
We'll start this list with the essential documents to bring, electronic, kitchenware, medical supplies and external official website resources at the later part. This post aims to be your ultimate friend on things you might need for living in Australia as an international student.
If you have any comments on this article, please leave them in the comment section below. I can't wait to reply to you. 🙂
First things to do for international students in Australia
Never try bringing
Unless you have gone through the official procedure and obtained permission to import items it is best not to try bringing these following items in Australia. This includes plants, weapons, live animals and pets and also the food you get on the plane!
If you are unsure if the item you need to bring is allowed it is always wiser to declare it.
Oh, wait!
What do you mean by declaring it?
You might have this question. Let me share with you what declaring means.
Recommended Just for you:
How to declare your items
When coming to Australia, there are certain items that need to be declared and can be brought in while some need special permission.
While entering Australia, a passenger will be given an Incoming Passenger Card (IPC), where you'll provide your details and declare if any items listed on the card is with you. The border force officer will assess your IPC card and your items might be inspected to make sure it is safer to bring in the item you are bringing.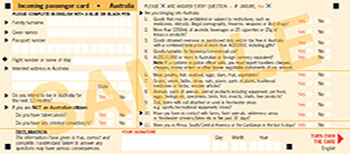 ---
You can also voluntarily dispose of plant and animal items at the designated bins.
You might be fined and prosecuted for a criminal offence if you don't declare your goods.

Please check this article for details on declaring items.


Better not to bring unless you really need to
There are some things which are better not to bring to Australia. While bringing these into Australia mightn't be illegal, I find it easier to say it is better not to bring them unless you really have to.
Bringing in pets, firearms, ammunition, weapons, plants and animal products
Common Australian slangs and their meanings you should know
Must declare if bringing, and also check the limitations on any food item
Pets including cats and dogs
Cigarettes and lighters (one unopened pack of upto 25 cigarettes and one open packet of cigarettes), if you're aged 18 years or older
alcohol upto 2.25l, if you're aged 18 years or older
Plants and animal products
Firearms, ammunition and weapons
Okay, enough of things not to bring and knowing about so much of declaring. Let's switch to what actually you need to bring for your stay in Australia.
We will start with basic documentation.
Must! – What to pack for Australia
documentation
No doubt, paperwork is important. When you are coming to Australia make sure you have all necessary documents ready and easily accessible when required.
It is also a good idea to keep a digital copy on your phone or online drive like Google Drive so you can access it anytime from anywhere.
Also, many places accept digital copies so you might be able to save some time. But keep your hard copy document ready in case you are asked to produce it.
plane ticket
Digital Passenger Declaration for Australia (to be submitted online within 72hours prior to flight)
proof of vaccination against Covid-19: hard copy and digital
Covid test result if required
COE (Certificate of Enrollment) and offer letter
CCMC form (if departing from Nepal)
Visa
Passport
OSHC Health insurance
NOC letter (if boarding a flight from Nepal's airport)
good to bring (can be optional): important documents like academic transcripts, financial documents, marriage certificate if married, test scores scanned or hard copy
driving licence if you have one
job/ career related documents (if possible only)
7 Most helpful websites to use in Australia
money
There are several ways you can bring money with you to Australia. I should say it is smarter to bring at least around 200 Australia Dollars in cash note.
This 200 AUD Cash can be used to buy a SIM at the airport, take a taxi to your destination, buy quick snacks for yourself after you land or even buy groceries for the first few weeks in Australia.
If it is possible you can bring in a credit/ debit card which is accepted in Australia. Please confirm with your bank beforehand on this.
If you are coming from Nepal, you can get a dollar card or a travel card whichever is easier for you.
You can also bring a bank draft, a cheque and a deposit here into your bank account in Australia. Remember it might take from a few days to a couple of weeks for the amount in the bank draft to be accessible for you.
Please check this blog on how to make a bank draft in Nepal that I published according to my personal experience.
as cash notes: at least around 200AUD
other ways: credit/ debit card, travel card, bank draft
Living essentials to pack when coming to Australia
better to bring if possible
Although all of these items can be bought in Australia, I would suggest you bring the following essential items as long as your luggage limitation allows you.
kitchenware: pressure cooker, 1 each set of glass, plate, spoon and bowl
water bottle
don't leave your warm and cosy blanket, bring it with you
bed sheet and pillow cases
umbrella and caps/ hat
university and/or laptop bag
toothpaste & brush
please don't leave these behind if possible [emotional sentiments]
As you depart from your family and home country for your further study and an exciting new journey, it is normal that at some point in time, you might feel homesick, miss your favourite pet or hangout junction. I suggest you bring in your emotional sentiments with you as long as they are allowed. This includes your family photos, your musical instrument, your journal and so on.
Your Gift of $200 Cloud Hosting Credit is Here. Claim Now!
---
your and family's awesome photos
your national flag, custom and dresses
your favorite musical instrument like guitar (but first make sure the size and shape of your instrument is allowed with your airlines)
All About Nepal and Nepali in Adelaide
food items
You are allowed to bring some food items subject to the condition they meet the requirements as mentioned on Australian Border Force's website.
Most of the food items are required to be declared. If you are unsure which items need to be declared, please check this website or always declare if you are confused.
Food items should be professionally packed and labelled.
Some common food items you can bring are:
biscuit, coffee, chocolate, juice and soft drink
human breast milk (less than 10l)
noodles, meat items, pepper, nuts [must declare]
essentials which can be bought at kmart/ coles at similar price
While coming from Nepal to Australia, we spent a lot of time in Nepal navigating around shops and markets finding different items, but now I regret doing that. When anyone asks me what to buy before coming here, I always say: bring your money here, just bring the essential items.
Yes, trust me you can get all the items mentioned below here in Australia in stores like Target, BigW and Kmart in a similar price range or sometimes even cheaper than in Nepal.
So, I'll repeat again, if you are worried about the baggage limit, trust me just sort the items most important to you and buy the rest here in Australia. You won't regret it.
How to Send Money to Nepal from Australia
Following items are some common most needed items. I haven't listed the number of items as it will differ according to the individual's choice and needs. So, you are free to pack as much and as little as you want. 😀
summer and winter clothes
towel
inner wears, socks
t-shirts (black must and other as your choice)
shirts: formal/ casual as needed
pants: jeans, cotton, work, business as needed, Inner trousers/ thermocot
different shoes: leather, sports, sneakers, gold star, work shoes, boot, black fit to most work scenario
outers: Light windcheater, hoodies, heavy down jacket, sweatshirt, jumper, sweater, Heavy warm jackets/ fleece/
belt
gloves and mufflers
sunglasses
cap: hat/ p-cap
4-5 stationery items (pen, diary, pencil, notebook)
purse/ wallet
your cultural/ national dress if you want: daura suruwal, dhakatopi
analogue/ digital watch
woolen cap/ muffler
slippers (outdoor/ indoor)
toiletries: Lip care, cosmetics, Body spray, Shampoo/ conditioner, Soap, Comb, Female hygiene products, nailcutter, razor, comb
microwavable kitchenwares as necessary
lock & key
---
Here's how an international student can adopt a cat in Adelaide, Australia
electronics items to pack when coming to Australia
Don't forget to bring your mobile phone, laptop and camera with you! If you are thinking to buy a new one, you might be interested to know there are superb stores in Australia selling electronic products. Please check these links: Apple Au, JB Hi-fi, Officeworks, Harvey Norman, bestbuys.coles.com.au and kogan.com.
unlocked mobile phone compatible with Australian carriers
please check this article for supported network frequencies, to make sure your phone supports the Australian network frequency
laptop/ notebook
ipad/ tablet
your vlogging kit: digital camera, microphone, gimbal, tripod etc
USB flash drive (pen drive)
power bank
earphone
travel adaptors
Medicines and medical items
It is a smart idea to bring some over the counter medicines just in case you might need them. Medicines for cold, cough and headache might be commonly needed.
If you are on medication, bring your medications with you, but don't forget the prescription!
handy plasts
cold and flu tablets
paracetamol
prescribed medicines with doctor's prescription
one extra set of prescription glasses if wearing one
extra set of contact lenses
Good to know and have in advance; just in case
destination address
your university/ college's address and contact details
emergency contacts
written details of person of contact in Australia and in your home country, can also include education agents, embassy etc in a pape. Details can include phone number in case your phone's battery is empty so you can contact him/ her once you arrive at the airport
Resources
Download Packing & Shopping Checklist for Australia as PDF
I have created a full checklist as a PDF which contains the packing list and the shopping list for international students coming to Australia just for you.
Feel free to download, print or share with your friends and use as needed.
Let me know if the list needs any updates.
Summary
You can pack things on your luggage and as much as you like as long as you meet the Australian Border Force's regulations for bringing items into Australia. While it is a good idea to bring every essential with you, you might save time and energy by buying these items after you land in Australia. This way, you can focus on packing only the items that will be very important for you. The packing checklist for an international student to Australia includes your paperwork, documentation, medicines, electronic items, food and snacks, clothes and living essentials.
FAQs