A full travel diary of two Nepali international students exploring Hobart CBD and Tasmania in Australia.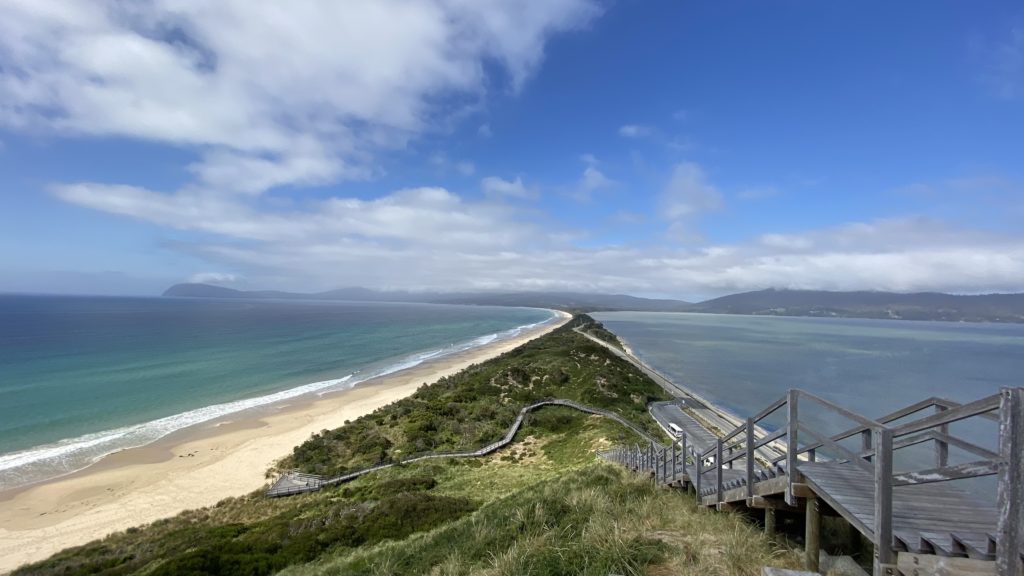 The Voucher Season
Lakshman and I always wanted to travel interstate. The spreading pandemic hadn't let us travel outside Australia so we decided to utilise this time to explore inner Australia.
On Nov 3, Lakshman showed me a travel voucher notification. He had already filled the form and was eyeing me to fill one. This year we had already won two travel vouchers – one to Barossa Valley and another to Victor Harbour.
I was quite sceptical as this was interstate and it was a state we hadn't even thought of! So after a short talk, I applied for the voucher and the next day Lakshman got the travel voucher! I kept on telling him to go alone in a jokingly manner as I hadn't won the voucher but less than two hours later, I had also landed with a travel voucher to Tasmania!
We were both surprised and equally happy as we hadn't thought of travelling to Tasmania any time soon. Lakshman has always wished to visit Melbourne, Queensland so we took this chance as fate's little push to visit one of the most beautiful states of Australia.
We were quite hesitant at first as both of us didn't expect the voucher application to succeed and both of us had to secure leave at work.
However that day, lakshman was so much into researching about Tasmania, places to visit, hotels to stay in that he ended up booking flights!
The funny thing is when I asked him if he was sure to travel to Tasmania, even though he already booked flights he still kept on displaying "No idea" gesture! 🤣🤣
So the flight was on Dec 1, we still had about a month and we thought it would be the longest month ever. By then, we utilised our time to research Hobart, areas to visit, tourist areas and hotels. We had 300$ vouchers each, so we could select any travel packages from the voucher.
We both spent hours googling about Tasmania as we had not known much about the state. The smallest state of Australia has been popular for having the world's cleanest air! How cool is that! Also, 20% of Tasmania is Tasmanian Wilderness World heritage. Tasmania has a lot to offer and we now knew that we are going to have a worthwhile time.
After a long wait and patience, finally, the day was coming. We had booked flights, hotel and also applied for leave at work. We got leave however covid cases started showing up in South Australia. We kept on praying for borders to not get shut as this trip was awaited so much.
Miraculously we had only about 7 cases when we reached the day of flight and for the last two days, no cases were seen. Happily, we reached the airport and took off at 7:40 am. We were really excited at this point. The morning clouds and leaving Adelaide felt so surreal even if it was temporary. We have been living in Adelaide for 3 years and we totally deserved travelling state other than Adelaide.
Day 1 – The Trip
Lakshman was so tired that morning because poor fella decided to work the day before. So the flight already had made him sleep. I was the one wide eyeing every cloud, small toy kind houses from the top and I wanted to scream on top of my lungs as one of my wishes to travel interstate was finally happening!
The 1h53m of flight duration was peaceful and at around 8:30 I noticed we were flying over the vast blue ocean.
Sometime around 10, I had started seeing hills and little puddles of water across land and I felt we were nearing Tasmania. We landed at 10:10 and we came out of Hobart Airport. Lakshman booked the express bus – Hobart Express that would take us from the airport to Hobart city.
---
We asked the bus driver – he was so kind to tell us the bus was going to Hobart. We sat on the bus and we were eyeing everything. We felt like we were indoor cats going out for the first time 🤣🤣
The bus started off. I have to agree that Tasmania has plenty of greens, lots of trees and the bridge over the Tasman sea was just beautiful! It's called Tasman bridge and when we were approaching Hobart, we had passed through beautiful areas which eerily reminded me back home, Nepal.
Reaching Hobart
We reached Hobart, the capital of Tasmania at around 11. As Adelaide doesn't have any water in between or surrounding it, we were quite wowed by the ferries on the dock. We could see sparkling water at Hobart. We jumped off the express bus and decided to look around a place to eat. It was supposed to be a chilly cold day but I think the weather in Tasmania gets lowest in the dawn and highest in the dusk.
After having a quick meal at Subway, we now roamed around the street named "Elizabeth Street". Oh, I forgot, we were in masks all the way to Hobart. When we jumped off the bus we observed not a single person had worn a mask! So we came to a conclusion that we came to a complete mask-free state. Lakshman was happier than me when he found this out. 🤣
Lakshman had already prepared an itinerary of what to do, which places to visit, what buses to take so I was pretty much resting on his shoulders 🤣
We then waited for the hop-hop off bus that goes to Mount Wellington.
Mount Wellington is one of the most popular tourist destinations in Tasmania. So we waited at a bus stop. There came a two-decker bus without a roof. Then Lakshman says "I don't think this bus without a roof goes up high to the mountain! It can be very risky". Then we asked the bus driver and he kindly asked us to go to the other stop for the bus that goes to the mountain.
The Table Mountain – Mt. Wellington
We caught the bus and then headed towards the mountains. Tasmania has a lot of places that look like mainland Asia – green trees, moist land, algae, clean oh cleanest air and cool temperature which I extremely missed in SA (I hadn't seen algae/leu around suburbs in SA).
As we were heading up and above, we were listening to our guide talking about a popular hotel that had been burnt down into ashes one night. The land where the hotel stood was vacant and dark smokey stones were piled up there. It felt very strange to look at it.
The guide specified that it snows during winter and I wish to see Mount Wellington's snow one day. When we reached Mt. Wellington, we had 2 hours to look around, click pictures and have fun. Mount Wellington is a beautiful place. One can see the whole Hobart state, Tasman bridge, part of Bruny Island and so much more! The sun was brightening itself so we saw even better. The mountain has a lookout area from where we managed to learn the history of this mountain.
The guide told us the story of how indigenous Australians worshipped this mountain. Britishers named it 'Table mountain' as they hadn't noticed the mountain when they discovered Tasmania first! They came twice to Tasmania and only noticed the mountain. As the mountain resembled a flat table, they named it "Table mountain".
Hop on-Hop off bus story
When we were returning from Mt Wellington, it was around 2.35, and Lakshman realised that there runs a 'hop on hop off bus around Hobart that departs at 3. He asked me if we could catch that bus, I told him that we will just roam around the city by ourselves in the evening and not worry about that bus. Sometime around 2:55, we had still not reached CBD, and he said "I will just forget about it, we only have 5 minutes!". The bus reached CBD at 3:10 and I asked the driver about the "Hop-on-hop-off" bus. He was a kind man.
He rang that bus's driver for us and asked us to wait. Then the gentleman drove us to the other driver and asked us to be comfortable as Hobart was a small capital and everybody were very helpful. Lakshman was exceptionally happy to catch that bus as he had already given up his wish to ride that bus. We sat on the top and the bus started.
This was our first time on that type of bus as we don't have such buses in Adelaide. So, this was a new experience for us. We looked out from the roof, we shared the bus with a few others and had so many seats to ourselves. Lakshman did some vlogs, we clicked so many pictures, we observed beautiful and stylish buildings such as University of Tasmania, museums, shops, houses, botanical gardens and much more.
Sudden recall – Tasmanian Museum
Friends, I completely missed out on our short and sweet trip to the Tasmanian museum! Hahaha Now, let me take you to that memory. This happened when we had arrived in Hobart and just had a meal. I don't have much interest in museums actually, I do love art though. Lakshman had already planned to see the museum so I tagged along for him.
The museum looked very lavish, exceptionally unique with all the wildlife and the seals. I am letting you know that Tasmania is very popular for seafood and sea life as a vast part of its area comprises water. So seal- figures are what you are going to see everywhere in Tasmania. So this museum had sea figures, the history of indigenous Australians, their social life, miniature houses, stuff they used and the first indigenous song (raw version) is also preserved there!
We were in short of time as we had to catch the bus to Mt. Wellington so we made the trip short.
Fast Forward to the Hotel
After a beautiful long day, we check in to our hotel. We dropped our bags, freshened up, relaxed a bit and then Lakshman really wanted to go out for an evening walk. We had an awesome day but we didn't want to just relax in the hotel. We then went for an evening walk. Hobart is relatively quieter around after 5. It was really silent and we walked through the lanes, looking at the shops, old buildings and infrastructures. I recalled what our tour guide had mentioned earlier. He had said that Tasmania particularly Hobart is the only state that didn't reform and refurbish its buildings so most of the infrastructures we were observing were from the 17th century! That is truly the beauty of Hobart.
We then discovered a really amazing Nepalese restaurant, feasted our dinner and again slowly walked to our hotel. Our hotel room had an amazing view. We had a giant window where we could see the entire Hobart in a sitting! As the night grew, the city lights dazzled and we both waited for the next day.
Day 2 – Beautiful Bruny
A beautiful sunny morning arrived and we woke up and headed to have some breakfast. Even though we aren't breakfast people, we decided to eat something as we had a long day in front of us.
At 7:30 we walked to the bus station to catch the travel bus. We were going to Bruny Island!!!!!! We were super excited as we had a whole day to travel to Bruny with Bruny Island Cruises, get onto the cruise and explore the wild sea life. This wasn't our first-time cruise but we both knew this trip is going to be fantastic.
In the past, we have done a fair bit of cruising here and there for it was only for about 1-2 hours. This time, we were going to the sea for 3 hours! First I thought that is going to be a long cruise but we will tell you how it went. 😀
First, we boarded the bus. We had an awesome guide who debriefed about the itinerary and the destination we were heading towards. We were crossing some bushy areas and beautiful small houses as if somebody placed them by their hands 😂
I have to admit Tasmania is a beautiful state to live in. It definitely has the cleanest air! I just couldn't stop breathing and smelling because I smelled air so fresh, crisp and moist. Every moment I was in Tasmania, I smelled sea, sand and aqua scent a lot!
So the bus crossed many cool and green landmarks. We also saw a small town designed for tourists. The tour guide also let us know how expensive the house is in Tasmania. Then the bus stopped for a short break at Kettering. We dropped and went down to see the place. It was a ferry dock and we took some photos and went back to the bus.
I forgot to tell you the wonderful people we met on this trip- we were 5 of us. Our friends were from Queensland and South Australia. Every one of us had experience in travelling (they had much richer experience).
So we all were having so much fun looking out, talking, sharing experiences. It was going to be a wonderful day.
That bus travels on the sea!
I know I am sounding ridiculous. But this is partly true 🤣
Your Gift of $200 Cloud Hosting Credit is Here. Claim Now!
---
We came to a place where we had no road to the island. It was all vast sea. Therefore our guide told us that the bus will get into the ship and the ship will take us to the other side.
I was very surprised. We don't have this form of transportation back in Nepal or SA. I was all eyes and ears on this trip. The bus then wheeled to the ship and we were slowly going towards the island.
The guide told us that we could walk around the ship and see the sea. The ship had a staircase upwards. So both of us went up. Oh my my! What a wonderful sight! The bluest of the blue waters was floating and waves rushing here and there. The sight was exquisite!
As the guide had commented earlier, it took exactly 10 mins to reach the entry of the island. He also added that Tasmanians travel through this route every day for their daily chores.
Tasmania's hyped lookout – Bruny Island Neck
We reached The Neck Lookout and the guide asked us to go to the top and enjoy the view. The stair was quite high, I'm telling you and it has been ages since I last exercised. 🤣
So we laddered up the top and we observed the vast ocean next to the island and the sun added beautiful colours to the area.
After the lookout, we drove off to the cruising site.
The wild wilderness cruise – Bruny Island Cruises
Then we came to a building that was the entry point towards the cruise. So we all headed towards the little area where the guide advised us to wear red big jackets. I assume this protected us from the splash of water during the cruise.
At first, I had thought it would be only 5 of us on the cruise. But guess what? We were 30 of us by that time. The sun was shining brighter and we all were so so excited that my heart was beating faster. We put the red jacket over us and headed towards the boat. We were in a line and the guide advised us that those who were pregnant, had a history of migraines and headaches to not sit on the first row. Thus, those who fell into that spectrum sat on the last couple of rows. We got nice two seats in the fourth row.
We all were advised to put on seat belts and be very careful not to stand or walk during the cruise. Oh, I was very very excited at this time. Then guides gave us ginger water so that the trip would not make us nauseous.
We sailed through the Tasman sea sightseeing those beautiful deep blue waters and also observing dark green caves filled with algae.
Slippery Seals
Guess what, we saw seals for the first time in our lives! Our guide told us that male seals and female seals lived in northern and southern territories. Male seals swim towards female's territory during mating season, how interesting is that?
---
Some seals were swimming in those waters being so carefree and some were drying themselves on the rock basking in the sun.
We cruised towards so many nooks and corners that we forgot it was almost time to go back.
Water turns black
When we first started, it was sunny and the starting point of the water was blue. After 2 hours, I noticed the sky turned very cloudy and the water we were floating on was almost black!
It was warm when we started off but now we all were shivering with cold.
Our guide reminded us that now we were standing on the starting point of Antarctica!
This widened my eyes so much! Antarctica! No wonder we were feeling unexpectedly cold and it had started drizzling by then.
We came to understand that if we cruise through that cold waters we would reach Antarctica in less than 2 hours!
Post cruise
After we finished our cruise, we came back to our dock. My body was so cold but the weather was sunny and warm like we had begun so that warmed me up so much afterwards.
We feasted on Tasmanian fish and chips, what an amazing meal we had that day. We had started to get tired and when we were returning, we actually dozed off in the van 😀
Back to Adelaide
After two days of so much fun, exploration, new experience, we headed back to Adelaide. We undoubtedly had enormous fun during our trip and collected so many memories. We have happily ticked off Tasmania as 'one of the most beautiful sites ever visited by Lakshman and Sonisha' in our list of explore!